Registration and Submission
The registration and submission of abstracts to the XV Chilean Geological Congress (CHGC) will begin on November 28, 2017
---
Registration Fees
I. EARLY BIRD REGISTRATION: FROM NOVEMBER 28, 2017 UNTIL MAY 18, 2018
| | |
| --- | --- |
| Category | CLP |
|  Members | 200.000 |
|  Non Members | 260.000 |
|  Undergraduate Students | 80.000 |
|  Graduate Students | 90.000 |
|  Accompanying Person | 90.000 |
II. FIRST LATE REGISTRATION: FROM MAY 19, 2018 UNTIL AUGUST 17, 2018
| | |
| --- | --- |
| Category | CLP |
|  Members | 230.000 |
|  Non Members | 300.000 |
|  Undergraduate Students | 120.000 |
|  Graduate Students | 130.000 |
|  Accompanying Person | 130.000 |
III. SECOND LATE REGISTRATION: FROM AUGUST 18, 2018 UNTIL THE BEGINNING AND DURING THE CONGRESS
| | |
| --- | --- |
| Category | CLP |
|  Members | 270.000 |
|  Non Members | 350.000 |
|  Undergraduate Students | 140.000 |
|  Graduate Students | 140.000 |
|  Accompanying Person | 140.000 |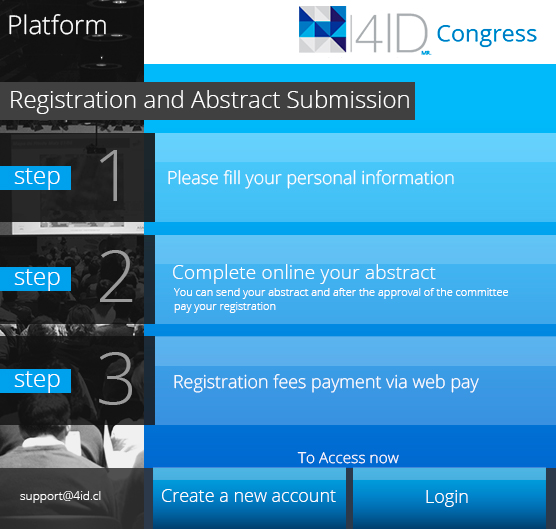 For registration, click on Create new account in the image. If you already have an account, log in to access the platform.
If you have any questions, do not hesitate to contact us at the e-mail support@4id.cl
---
Registration fee includes the attendance to all scientific events, opening reception, coffee breaks, congress material and digital certificate. The opening and closing ceremonies are included. Registration fee does not include pre and post Congress courses and excursions.
Annulments must be presented in writing to the Organizing Committee until August 17, 2018. The reimbursement will correspond to the amount of the registration fee minus 15%. After that date the annulment cost will be 50% of the registration fee.
No annulments will be accepted and no reimbursements will be made after October 18, 2018.
Each participant will belong to a specific category, as follows:
Members: Active members (whose social contributions are paid as of May 10, 2018) of the Chilean Geological Society, Chilean School of Geologists or Argentinian Geological Association (in accordance with the agreement with the SGCh). We urge colleagues who are not yet active members of these institutions to update their membership before May 10, 2018, with the double purpose of contributing to the financing of these institutions and saving money in their registration fee.
Students: Undergraduate and Graduate students must submit a valid certificate issued by the corresponding academic institution. There is a limited number of attending quotas for undergraduate students who do not submit an abstract. The Organizing Committee, along with student's associations and the Heads of the corresponding Undergraduate Careers, will define a strategy in order to ensure a fair and equitable attendance of undergraduate students. It is relevant to point out the Organizing Committee will arrange streaming transmission of oral presentations and invited lectures. This will be a channel towards the community, particularly towards undergraduate students who will not be able to attend.
Accompanying person: Registration fee includes only participation in social activities.