Cindy Mora-Stock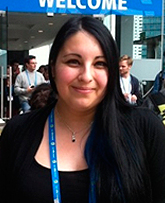 Bachelor and Master of Sciences in Geophysics from the University of Chile, Chile, and Dr. rer. Nat. (Doctor of Natural Sciences) from the Christian – Albrechts – Universitaet (CAU), Germany.
Her main areas of interest in geosciences are: volcanic seismicity and volcanic structure; influence of crustal faults in volcano dynamics; and interaction between great earthquakes and volcanic activity. Other areas of interest are: science communication, and visibility for women in sciences (Women in STEM).
Currently she is Postdoctoral Researcher at the Department of Earth Sciences, Faculty of Chemical Sciences, at the University of Concepción, Chile.