Dr. Anne Socquet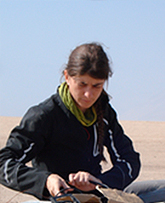 Professor Dr. Anne Socquet received her PhD from l'Université Paris XI in 2003.  Her postdoctoral research was carried out at UCLA, United States and at DEOS in The Netherlands.
Currently she is the Head of the "Seismic Cycle and transient deformation" Team at the Institut des Sciences de la Terre, Grenoble, France.
Her research is dedicated to a better understanding of fault processes at various phases of their seismic cycle mainly using space geodesy (GPS and InSAR) to monitor the ground deformation and the space-time variations of the earth's surface deformation.
During the past years she has been mostly involved in projects dealing with subduction's seismogenic zone processes (in the Andes, in Japan or in Indonesia) or in projects aiming at deciphering rifting processes (in Afar, Ethiopia and Djibouti).
She is also strongly involved in the EPOS-IP project (European Plate Observing System, Implementation Phase) and responsible of the coordination of the 'GNSS Products' Task of WP10, being in charge of the EPOS GNSS processing center hosted at CNRS-OSUG.