Dr. David Catling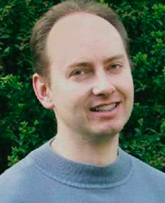 Dr. David Catling is a professor in the Department of Earth and Space Sciences and the cross-campus Astrobiology Program at the University of Washington, Seattle, USA.
He is a planetary scientist whose research interests concern the evolution of planetary atmospheres and surfaces, and the potential of planets for life. After completing a doctorate at the University of Oxford in 1994, he was a researcher in planetary science at NASA's Ames Research Center near San Francisco, California, from 1995–2001. In 2001, he joined the faculty at the University of Washington. One key area of his research entails understanding how the Earth's environment changed over its 4.5 billion year history by combining expertise in geology, biogeochemistry, and atmospheric sciences. He has also been involved in NASA's exploration of Mars and published research on geology, geochemistry, and atmosphere of Mars. Furthermore, he has also done research about the habitability of other solar system bodies and exoplanets.
Dr Catling is the Plenary Speaker for the Thematic Area Emergent Fields in Geosciences of the XV Chilean Geological Congress (CHGC).