Dr. Jan Marie Lindsay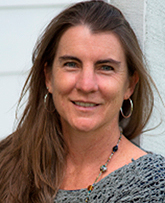 Professor Dr. Jan Marie Lindsay grew up in Rotorua, Western Samoa and Auckland, all places that are known for their volcanoes, although her serious interest in geology was not sparked until university.
She moved to Germany in 1996 to take up a PhD at the GeoForschungsZentrum (GFZ) in Potsdam, where she worked on a project unraveling the history of the large La Pacana caldera in the Altiplano-Puna plateau in Chile.
Her postdoctoral research was carried out in Trinidad and Tobago where she spent four years as a Research Fellow in the Seismic Research Centre of the University of the West Indies.
Currently, she is an associated professor at the School of Environment, Faculty of Science, The University of Auckland, New Zealand.
She is interested in all aspects of volcanoes, including the petrogenesis of their magmas, the superficial deposits they generate and the hazards they pose.
Dr. Lindsay is the Plenary Speaker for the Thematic Area Volcanology (VOLC) of the XV Chilean Geological Congress (CHGC)