Luis E. Lara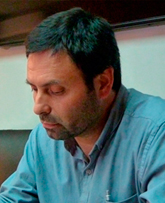 Geologist, Master of Science mention in Geology from Universidad de Chile, Chile and Doctor in Earth Sciences from Université de Toulouse, France.
His areas of interest are: Quaternary volcanism in convergent margins, Intraplate volcanism (oceanic islands and seamounts), Geochronology, Neotectonics, Geomorphology, Volcano Hazards and Marine Geology/Geophysics.
He is the former head of the National Volcano Monitoring Network of the National Survey of Geology and Mining (SERNAGEOMIN) and chief editor of Andean Geology. At present he is project director and researcher, and external professor at the Universidad de Chile and Universidad de Concepción.