Sven Nielsen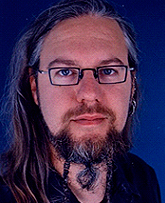 Dimplom-Geologe, Universität Hamburg, and Doctor in Natural Sciences (Dr. rer. nat.), Germany.
His areas of interest are Evolution of Cenozoic molluscs in the Southern Hemisphere. Faunal connections from the Late Cretacic and Cenozoic. Fauna response to environmental changes. Stratigraphy of marine Cenozoic deposits in Chile.
Currently he is an associate professor at the Instituto de Ciencias de la Tierra at Universidad Austral de Chile.