Dr. Tibor Dunai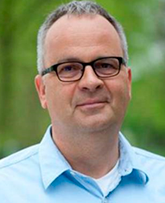 Professor Dr. Tibor Dunai received his PhD from ETH-Zürich in Switzerland.  After completing his postdoctoral training at the Department of Geosciences, VU-Amsterdam, he has held important academic positions at the University of Edinburgh, UK, and the University of Cologne, Germany, among others.
Currently, he is a principal investigator at the Institute for Geology and Mineralogy of the University of Cologne in Germany.
His areas of expertise are: cosmogenic nuclides, Earth surface processes, arid-zone geomorphology, geochemistry and noble gases.  He is also the leader of "Earth Evolution at the dry limit" project. http://sfb1211.uni-koeln.de/
Dr. Dunai will be the Plenary Speaker for the Thematic Area Geomorphology and Exogenic Processes (GMPE) of the XV Chilean Geological Congress (CHGC).